Cosmetic Dentistry in Huntsville Alabama
We are excited to invite you to our dental practice, and hope to provide a significant contribution to your overall health by offering implant, restorative, and cosmetic dental care. The implant dentistry techniques we offer have proven to be life-changing for many of our patients who previously had little hope of regaining normal oral functions and facial cosmetics which are so important to the quality of life.
In providing these comprehensive services, we determine your needs and desires and provide a complete oral examination. Your consultation will include a review of the function and cosmetics of your present condition, and suggestions for improvements.
Dr. Hoar believes that each patient deserves the very best that dentistry has to offer and modern technology allows. Just as important, he wants to know your desires and goals for your dental health. Dr. Hoar feels compassion and understanding are equally significant as clinical skills in achieving your desired goals, and will do everything possible to make your treatment here comfortable and relaxing.
Our Trained Professionals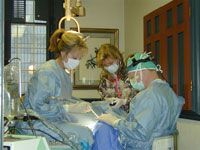 Our highly trained professional staff is an integral part of your dental care. Each staff member undergoes an extensive training program when hired, and participates in continuing education thereafter. Our surgical team completed a year long program at the prestigious Misch Implant Institute in Michigan and helps train other offices in sterile surgical techniques and other aspects of implant dentistry. The entire staff has a combined experience of more than 60 years with Dr. Hoar. He often prefers to call them My patients staff because he feels they are here to assist every patient during all phases of their treatment. They are always willing to answer any questions or discuss concerns. Our implant coordinator, for example, is often available to answer specific questions regarding dental implant treatment.
Services:

Dental Implants

Restorative Dentistry

Oral Sedation

Endodontics

3D CAT Scans

Realistic Dentures

Periodontics

Oral Appliances for Sleep Apnea & Snoring