Patient Education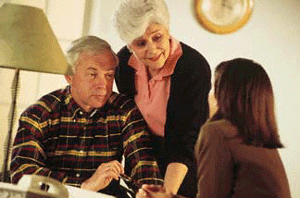 Missing Teeth? There are Solutions!
Free Dental Implant Seminar
Dr. Hoar will explain how Dental Implants can dramatically
improve the quality of your life during this seminar.
If you are missing teeth, you owe it to yourself to attend!
Topics covered in this informative presentation include the following:
What choices do you have after you lose your teeth?
What happens to your facial shape after you lose teeth?
What will your lower jaw look like in 20 years?
Why your adhesives will not work after many years of use.
How Dental Implants can prevent future problems.
What do other patients say about their Dental Implants?
What do Dental Implants cost?

Refreshments will be served.
Guests and family members are welcome.
Please call our office to reserve a seat.


Frequently Asked Questions
Why do I need a bridge?

Your appearance and proper functioning of your mouth are all important reasons for wearing a bridge. It replaces missing teeth, and supports your facial muscles, lips, and cheeks. It prevents your teeth from shifting and causing bite, jaw and gum problems.




Why do I need a crown?

You may need a crown for several reasons: fractured or broken teeth, large restorations or fillings, teeth that become brittle after root canal treatment, unsightly stains and/or trauma.




What is a crown?

A crown or cap is a metal thimble or hollow tooth that is bonded with tooth colored porcelain. The crown is permanently cemented over a prepared tooth to restore natural function and esthetics.




How long will the results of cosmetic bleaching last?

With bleaching trays you can "touchup" whenever you wish. So before that reunion, or wedding use your bleaching for a few days to get a bright white smile!




Will my teeth be sensitive if I bleach them?

Rarely, but if during the bleaching procedure sensitivity is noticed, we can lower the strength of the bleaching gel and this usually disappears.




How would I know if I am a candidate for dental implants?

Call for a free consulation with Dr. Hoar.




What are the benefits of dental implants?

Dental implants improve your smile, allow you to eat the foods you enjoy, restore better chewing for easy digestion, speak with greater ease, restore your facial structure, enjoy an active lifestyle, and live with confidence!




What if my bone level is not sufficient for implants?

It would not be possible to have implants without adequate bone levels. However, we can easily grow new bone with various bone grafting options. Dr Hoar routinely does this procedure with excellent result and would be happy to discuss your individual situation. Call for a consultation.




Can I be asleep for the procedure?

Yes, and we can put you to sleep to do all of your dental work at the same time and in one visit!




Should I have an ulcer or growth check?

Any growth or ulcer, which does not heal itself within 10 days should be checked. It could be pre-cancerous or malignant. Rapid and early diagnosis and treatment offers an excellent prognosis.




If my gums are receding, am I brushing too hard?

A toothbrush does not usually cause receding gums. Gums that have receded are almost always a symptom of a problem with the bite. Sometimes habits such as clenching or grinding your teeth can cause recession. An examination by Dr. Hoar can determine why your gums are receding and preventative measures can be recommended.



Thank you for your submission
We are looking forward to seeing you soon!
You will receive and e-mail with a reminder of the date and time for the seminar
Feel free to contact us with any questions or concerns
1-256-539-1471
1-800-539-1471

Office Hours
Monday - Thursday: 7:00am - 4:00pm
Friday: 8:00am - 5:00pm (surgery day)